RapiTrim Laser Resistor Trimming Systems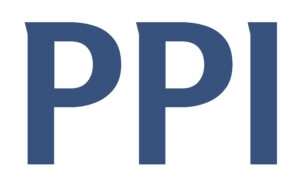 PPI Systems designs and manufactures the most advanced turnkey laser resistor trimming solution for modern hybrid circuits and electronic components in the world. We have over 18 years experience creating resistor trimming systems which have been adopted by the largest thick and thin film manufacturers globally.
Features include:
Flying probe, probe card and custom measurement 
Passive or active trimming options with custom fixtures
Designed with modern software and hardware with higher speeds and increased reliability
Optional substate handling, magazine loaders, external instrument support and process sequence customization
Global customer and technical support
Able to handle both high-mix, low volume and high volume applications with ease, RapiTrim systems are easy to install with intuitive software and over 100 years of combined application experience shared by our engineering and R&D groups. No matter what your job specification, there is a RapiTrim laser resistor system to meet your needs.
Important factors to address when buying your first Laser Resistor Trimming System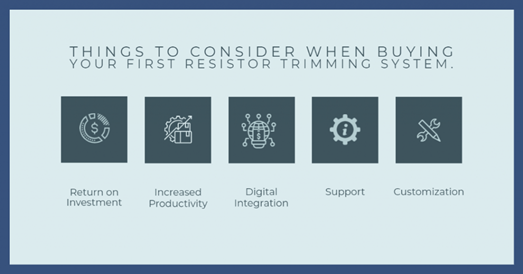 Resistor trimming systems are defined by each customer's unique needs. Typical questions answered during the selection process revolve around cycle times, probing and testing options, laser type, active versus passive measurement, automation and fixturing. PPI Systems offers standard systems as well as full customization for high and lower volume production needs. All systems are designed for easy, turnkey installation.
The RapiTrim series of laser resistor trimming systems have been designed from the ground up using modern software and hardware, allowing PPI Systems to offer the most adaptable, fast and efficient solutions in the market.
When purchasing capital equipment, assurances are needed that systems can meet todays and tomorrow's applications.
RapiTrim has been designed with this in mind. Software is Windows 10 based and hardware includes the most up-to-date lasers, accurate, high speed beam control, automation and external instrument integration. Precision measurement using advanced probing methods. Built to meet any modern laser resistor trimming application.
Features include stack loaders, automated probe-tip exchange, custom fixturing, switching matrix, external instrument support, bar-code readers and process sequence customization.
PPI Systems is dedicated to providing quality products along with efficient service and superior support, ensuring optimum performance and productivity throughout the service life of the drilling or trimming systems.
With world-wide representation, PPI Systems provides on-site installation and training services to support customers on every continent.
Remote connection tools allow our engineers to connect directly with the system to see first-hand what is being experienced.  This tool allows PPI Systems to provide timely assistance and resolution of issues, minimizing the requirement of a more costly on-site service visit.
The operational flexibility of the systems allows a PPI solution to perfectly match each unique application.
Through training and helpful reference materials, PPI Systems will assist you through project definition, custom design (if needed), deployment and post-installation support.
Upgrading from an end of life or obsolete Resistor Trimming System.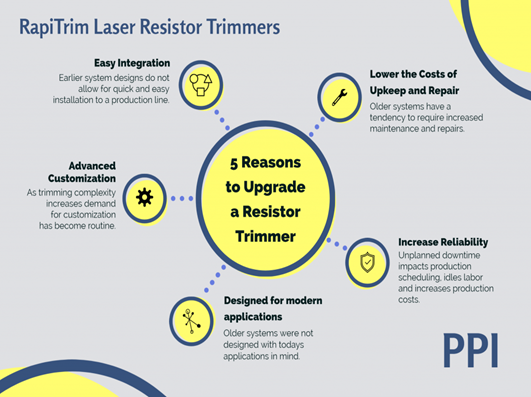 As resistor trimming systems designed the 1980's and 1990's reach their end of life, manufacturers are increasingly forced to choose between continuing to perform repairs as well as commit to increasing time spent performing maintenance versus purchasing new equipment. Avoiding unplanned downtime and the high cost of repairing obsolete manufacturing equipment must be balanced against the cost of new capital equipment.
PPI Systems works with customers at every stage of the purchase to assist in making the decision to upgrade, designing of systems to fit perfectly into their production line, initial job creations, training and support.
We'll work with you every step of the way, from initial application decisions, sample processing and job creation, customization and complete installation of the system. And then we'll be there to provide advice and support going forward.
With nearly 20 years experience working with laser processing, PPI systems has the experience needed to ensure a problem-free installation.
Modern resistor trimming systems take advantage of the most modern hardware options available. Critical components such as lasers, cameras, stages and galvo controls, take advantage of the latest advancements which translates into faster, more adaptable laser resistor trimming systems which meet modern specifications and applications.
Options include stack loaders, automated probe-tip change, custom fixturing, switching matrix, external instrument support, bar-code readers and process sequence customization.
PPI Systems Inc.: Products
Your Contact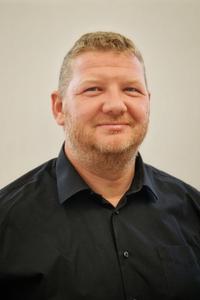 Joachim Schuhmann
Managing Director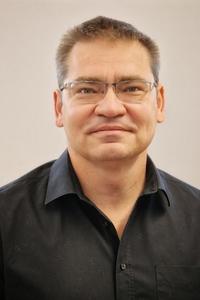 Eugen Karpow
Service Manager